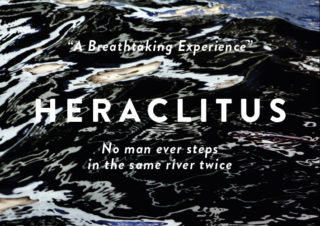 tour, artist talk + film 'Heraclitus'
The tour is fully booked, there are still places available for the film!
On Saturday the 23rd of March, guide and art historic Cilia Batenburg will take you through the exhibition 'stil'. The tour will culminate in a viewing of the film 'Heraclitus' by Lenny Oosterwijk. A near-meditative experience!
Prior to the film, Lenny will give an introduction. He has been taking photographs of rivers since 2007. He has named this project Heraclitus after the latter's quote that 'no one can step into the same river twice, as different water will be running through it'. His film Heraclitus shows the river water as an abstract, picturesque, seemingly endless stream of moving images. The film enjoyed a successful premiere at Internationaal film festival Rotterdam in 2015. Those who saw the film completely lost their sense of time. The music in this film by saxophone quartet Artvark SQ adds more depth.
You can view the trailer here.
The tour has space for a maximum of 20 people, the film room provides space for roughly 45 people. Entry: € 5, sign up via info@deketelfactory.nl.
Start tour: 2pm
Start introduction Lenny Oosterwijk: 3.15 pm
Start film: 3.30 pm (duration 50 minutes)
You are invited for drinks and snacks afterwards.